John Hende: a rebel friend of Chaucer?
Posted 2021-02-05 12:35:56 by Helen Lacey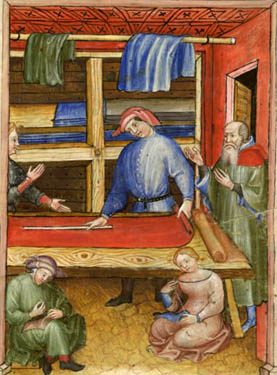 •   A Friend of Chaucer?
•   Town v Country: Mixed-Loyalties During the Rebellion
•   Exploiting the Opportunities Offered by the Rising
John Hende's connection to the Peasants' Revolt is a complicated one; he cannot be labelled simply as a rebel or an enforcer of royal justice, since he had a foot in both camps. Hende was a prominent London merchant who accumulated so much wealth that by the fifteenth century he became Henry IV's leading money-lender. During the 1380s he rose through the ranks as a draper and held several roles in civic administration, as alderman and sheriff, eventually becoming mayor in 1391. He married his first wife, Isabella, in 1368. She came from a family of prominent drapers and Hende may well have been apprenticed to Isabella's father. Through the marriage he acquired a shop with living space above in Candlewick Street, the main east-west road through London between Ludgate and Posterngate.
As his prosperity grew, Hende looked to entrench his position by purchasing property in the surrounding countryside of Kent and Essex. He had acquired the first of his eight Essex manors, Mascallsbury in White Roding, as early as 1370. By 1380 Hende's first wife Isabella must have died since he married again, this time to Katherine Baynard, a widow with substantial Essex landholdings from a well-established gentry family. In 1381 Hende began the disputed purchase of his chief manor, Bradwell-juxta-Coggeshall, and this is where his connection to Geoffrey Chaucer emerges: both Chaucer and Ralph Strode (the 'philosophical Strode' to whom Chaucer's Troilus was dedicated) aided Hende in the transaction. Through these land dealings, Hende seems to have made an enemy of John Ewell, the king's escheator in Essex. On 12 February 1381, Hende was required to come before the court of King's Bench and bring with him men who would act as 'mainpernors' on his behalf (guaranteeing his future good behaviour on penalty of a substantial fine). Hende brought four mainpernors: Geoffrey Chaucer, Walter Stratton, Ralph Strode and John Davy (Crow and Olson, Chaucer Life Records, pp. 281-2). These men were tasked to ensure that Hende did not interfere with Ewell, nor with another man called Robert Lenham, nor their servants 'in words and deeds'. Each of the mainpernors promised to forfeit £100 each if Hende violated this agreement and Hende himself pledged £500; these were enormous sums. Whether or not Hende and Chaucer were close friends, Chaucer was clearly willing to put himself out to a considerable degree by acting on Hende's behalf.
A few months later, in June 1381, John Ewell became one of the victims of the rebels, killed by the Essex insurgents who presumably targeted him because of his role as collector of the poll tax. In the wake of Ewell's death, Hende acted quickly to take advantage of the upheaval, sending a group of men to occupy Bradwell manor. This underhand dealing landed him in the court of King's Bench on 27 September 1382. The court heard how the Essex rebels had broken into Bradwell manor in the summer of 1381 and occupied it until Hende's men arrived on 27 June. John Coggeshall of Rivenhall, acting on the orders of John Hende, took possession of the manor and confiscated the revenues, as well as allegedly breaking into the dovecote and taking the doves. He also demanded obedience from the tenants of the manor. This continued until 29 September, when the escheator took the manor back into Crown ownership. This case dragged on in the court for some time, and Hende was clearly concerned about incurring royal displeasure. He even took the step of expressing his contrition before parliament in October 1382:

Also, John Hende of London, John Battle and Thomas Battle, together with Sir Nicholas Dagworth, knight, came to this parliament, and there they submitted themselves high and low to the grace and ordinance of our lord the king and his wise council, concerning the suit which had been brought by them and others for a long while over the manor of Bradwell in Essex, for which the plea is pending, unexamined in the King's Bench. Openly confessing there that if they had known at the beginning of their suit, what they knew now, they would never have involved themselves as much as they did, nor have brought such a suit as they did. Furthermore, they said that they were fully content to do and receive in this matter whatever our said lord the king, by the advice of his noble council, would wish to ordain.
(https://www.british-history.ac.uk/no-series/parliament-rolls-medieval/october-1382#h3-0003)
This plea from Hende and his companions suggests that they were in danger of being labelled as rebels alongside many others who had taken advantage of the upheaval in the summer of 1381. The plea was entered in the parliamentary record in the same session as the cases of several notorious London rebels (Farringdon, Mory and Dell), and with the pardons to the citizens of York and Scarborough for rebellion in 1381. After the parliament had ended, Hende was still anxious to smooth things over. He submitted a petition about the legal wrangling over Bradwell manor, stating that he had desisted as soon as he had learned that it was displeasing to the king (SC8/20/965). He asked to pay a fine for the manor, and put himself on the king's grace. The case at King's Bench ended well for Hende, with acquittals for him and his man John Coggeshall (KB 27/486 rex m. 16). Furthermore, by 1385, Hende had been granted the rights to the manor at the request of the king's uncle, Edmund Langley, the earl of Cambridge (repeating an earlier grant made in 1383 (CPR 1381-5, p. 329). Hende then sub-enfeoffed the manor to the three named knights, John and Richard of Sutton and John Boys and a clerk called John Codelyng (CPR 1381-5, p. 329).
Whilst this case had been rumbling through the courts, Hende had been presenting himself to Londoners as a stalwart supporter of the Crown. In 1380 he had been appointed a commissioner for collecting the poll tax in London and he was a sheriff in 1382, when he served on the commission that heard John Cote's confession. Cote had been accused of taking part in a plot against the king, conceived of by a group of men from Maidstone, Kent, in October 1381. Cote had turned approver and confessed to a plot to depose the king in favour of John of Gaunt, duke of Lancaster, after hearing rumours from men 'of the north country' that Gaunt had freed his serfs (KB 27/482, rex mm. 1-2; CPR 1381-85, p. 218). Cote implicated several other men in the plot and one of the men he named, William Delton, challenged him to a duel in order to prove his innocence. Cote won the duel and was eventually pardoned (CPR 1381-85, pp. 264-5). Hende's dealings show how the same man could be heavily involved in counter-measures against the rebels in London, while still exacerbating unrest a few miles away in Essex (albeit trying to smooth things over through pleas and petitions to parliament). How far Chaucer was implicated in all this is an intriguing, if unresolved, question.
After 1381, Hende went on to accumulate vast wealth. He briefly fell from favour and was imprisoned by Richard II at Windsor Castle in 1392, when, as mayor, he led the city in their refusal to loan money to the Crown. After payment of a fine the king reconciled with the city and Hende was pardoned. Hende did not abandon his interests in Essex: towards the end of the fourteenth and the beginning of the fifteenth century he was part of a network of lawyers and landholders around Clement Spice, and together they transacted multiple land deals. Neither had Hende left behind his unscrupulous methods: sometime in the period 1389-91, a man called Robert Kirkby complained to the council about vexatious litigation initiated by Hende (SC 8/215/10720). When Kirkby went to Hende's house in Essex for arbitration, he was attacked by Thomas Maundeville and grievously injured. Clearly, Hende had not learned his lesson from his brush with royal displeasure in 1381. On his death in 1418, Hende left thousands of pounds in cash to his wife and sons, as well as income from his estates and monies to be recovered from his debtors. He was buried in the chancel of Bradwell church and left money to the church.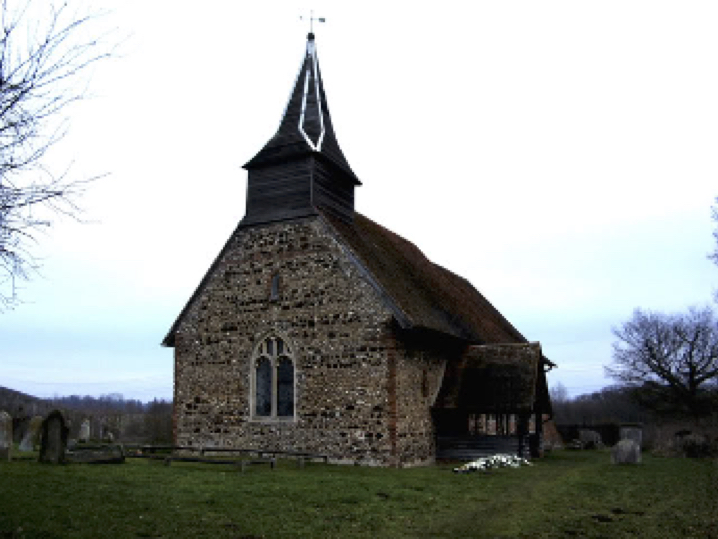 Further Reading
M. Turner, Chaucer: A European Life (Princeton University Press, 2019), pp. 281-3.
J. Stratford, 'Hende, John (d. 1418)', Dictionary of National Biography, https://doi.org/10.1093/ref:odnb/52249, Published in print: 23 September 2004, Published online: 23 September 2004.
M. Crow and C. Olson, Chaucer Life Records (1966), pp. 281-2.
J. Ashdown-Hill, 'Lady Eleanor Talbot's Other Husband: Sir Thomas Butler, Heir of Sudeley, and his Family', The Ricardian, vol. 14 (2004), pp. 62-81, see in particular the family tree on p. 66.
C. Starr, 'Medieval Lawyer: Clement Spice of Essex', Essex Society of Archaeology and History, Occasional Papers, new ser., no. 2 (2014), pp. 59, 61.