Goditha de Stathum [Statham] and her sons
Posted 2020-05-01 11:17:31 by Helen Lacey

•  
Central role of a matriarch in the story of a rebellious gentry family
•  
Rebellion in Derbyshire, anti-Lancastrian protest
•  
New evidence of rebels and their military service records
•  
Revealing pattern of attacks on John of Gaunt's lands and attitudes towards him
In 1381 Goditha de Stathum and her five sons resided in Morley, a village a few miles north east of Derby. Goditha had been widowed the previous year when her husband, Ralph de Stathum died on 13 June 1380. Ralph had been elected MP four times and was a collector of the first poll tax in 1377. Before her marriage, Goditha had been a substantial landholder in her own right, inheriting property from her family, the Massys of Sale in Cheshire: hers was a gentry family of substantial means.
The story of the Stathum's rebellion in 1381 has been expertly told by the historian David Crook. To summarise: on 18 June 1381, with news of rebellion in London reaching Derbyshire, a group of men from the village of Morley took action. Two of Goditha's sons, William and Richard, went to the house of Henry Massy, a neighbour they had been in dispute with, and killed him. Another local man called John Parker was also killed. The rebel group then went to the local Breadsall Park Priory where they assaulted and imprisoned the prior and canons and set fire to their church, kitchen and chambers. From there they went to the royal castle of Horston and took it by force, raising the banner of St. George to signal their takeover [TNA, JUST 3/56/4. m. 12].
Goditha, aware of her sons' involvement, 'harboured' her sons and some of the other men involved in the insurrection.  Clearly, she wanted to protect her two sons, William and Richard, from arrest. She might also have felt a degree of responsibility for the actions they took in killing Henry Massy (perhaps a relative of hers) who had been in dispute with her husband for some years before his death in 1380. Her sons appear to have taken the opportunity to pursue a long-running family vendetta against Henry, who was, crucially, one of the local tenants of the Duke of Lancaster, John of Gaunt. It seems that Ralph and Goditha had long resented Gaunt's power in the area, having been targeted by the duke in several legal commissions for their alleged infringements on his lands [See CPR 1377-81, p. 511]. Most recently, in 1380, they had been fined £100 for illegal occupation of his land. On 18 December 1381, all five of the Stathum brothers (Ralph, Thomas, Robert, William and Richard) were to receive pardons for their part in the local insurrection [TNA, C67/29, m. 36] and Goditha herself sought one a few months later, on 5 May 1382 [TNA, C67/29, m. 12].
This narrative of events was established by David Crook in his article on Derbyshire and the 1381 rising. Our research has now added two important points to this picture; the first expands on what happened to the family after 1381, including the military careers of all five sons, and the second is the wider pattern of attacks on John of Gaunt's lands, property and reputation.
After 1381, Goditha remained a force in the local area, living into old age (she was married c. 1359, had adult sons in 1381 and died on 16 May 1418, putting her age in the late 70s at least). David Crook and Maureen Jurkowski have shown that, from 1381 until at least 1410, Goditha was a prolific litigant in the Derby assizes, the Court of Common Pleas and King's Bench, attempting to defend her lands from encroachment and claiming damages from neighbours (often those with Lancastrian connections). As late as 1393 the Prior of Breadsall Park attempted to launch a private prosecution against the five Stathum brothers for their part in the attack on the Abbey, back in 1381. The matter was only settled on 1 July 1393, when in the chapter house at the priory, the prior agreed to release Goditha and her five sons from all actions. Maureen Jurkowski has also shown how Goditha orchestrated the building works on the local parish church of St Matthew, suing the builders when they failed to construct the newly commissioned tower within the agreed timeframe, because the mason had fallen to his death. Goditha and her husband also commissioned the building of a private chapel on the north side of the chancel; this was followed in 1403 by the construction of the tower and the installing of several monumental brasses.
Whilst in the past this case study might have been perceived as a local feud, only indirectly linked to events in London in the summer of 1381, our research is starting to reveal evidence of wider patterns of attacks on Gaunt's lands, sometimes bypassing other, nearer manors in order to target Gaunt in particular (watch this space for further updates). The animosity that Goditha and her sons felt towards Gaunt was of long-standing, but it surely adds to the picture of 1381 as an anti-Lancastrian protest. However, the picture of attitudes towards Gaunt is a complex one. There were also rebels who admitted to a plot which involved deposing Richard and placing Gaunt on the throne, in response to the rumour that Gaunt had freed all his 'natives' [TNA KB 27/482, rex m. 1].
Our research has also revealed new evidence of the extensive military careers of Ralph de Stathum and four of his sons (Richard seems to have opted for the law instead). The Medieval Soldier Database [https://www.medievalsoldier.org/] records military service from the muster rolls or retinue rolls of a campaign (so that payment could be paid); as well as letters or protection and appointments of attorney which indicate that someone intended to travel abroad on military service. From this we can glean the following:
1. Sir Ralph Stathum, the father, died in 1380. The family history, The Descent of the Family of Statham, suggests he may have fought at Poitiers in 1356. Whether or not this is true, it seems certain he served on the 1369 expedition in the retinue of Humphrey de Bohun earl of Hereford (confirmed by letters of protection and letters of attorney).
2. Sir Ralph's eldest son, also called Ralph, is also likely to have been a soldier. A Raulyn (Ralph) served in a naval campaign under Sir John Darundell in 1378 and it is credible that a son of Sir Ralph could have been born c.1350s/60. In 1375 he appears to have served with Sir Hugh Calverley at Calais 1375: '6 Nov 1375, pardon at the supplication of Sir Hugh de Calvyley, captain of Calais, to Ralph son of Ralph de Stathum of the king's suit for the death of Robert de Eyton of Morley, whereof he is indicted or appealed, and of any consequent outlawry. By ps' [CPR 1374-7, p. 189]
However, there was also a branch of the Stathum family from Cheshire and there might well have been more than one Ralph Stathum.  One Ralph appears to have served as a man-at-arms under Calverley but another Ralph served as a man- at- arms under Sir William Windsor at exactly the same time [TNA, E101/39/9 m 3; E101/39/7 no 1 m2, and no 3 m1].
3. Thomas de Stathum fought with the duke of Gloucester in 1380 (the date suggests it is the son of Sir Ralph). There was also a Thomas Stathum who fought with the Black Prince in Gascony in 1368-9. This might have been the same man, or alternatively it might have been a brother of Sir Ralph.
4. Robert Stathum received a pardon in reward for his military service in Brest in 1393 and this seems likely to have been Ralph's son: '20 Nov 1393: To the sheriff of Derby. Writ of supersedeas until the quinzaine of Easter next, upon petition of Robert de Stathum of Derbyshire, if he be put in exigents at suit of the king and not of a party; as his complaint shews that, although lately the king pardoned him all treasons and felonies committed in insurrections of certain rebels against the king and the peace from 1 May 4 Richard II to the feast of Allhallows following except certain felonies therein specified, and although that pardon was lately allowed before the king in his court, and the petitioner was acquitted of felonies for which he was impeached, he is a second time impeached for the same in the said court, and is unlawfully put in exigents at suit of the king only, shewing that he is upon the king's service in the company of John de Holand earl of Huntyngdoun and captain of Brest in Brittany, and is abiding in the garrison of that town. By K.' [CCR 1392-6, p. 241]
5. William de Stathum also seems to have served with the Duke of Gloucester in 1380 alongside his brother Thomas (both brothers receiving letters of protection for the campaign). So like our profile for John Peper (returning from the same expedition and in the same retinue captained by Sir William Windsor) its seems likely that they all returned to England immediately prior to the revolt.
6. John de Stathom, 'of Derbyshire' fought on the Portuguese campaign of 1385. But this was presumably a collateral line.
It has been suggested before that William and his brother Thomas were at Agincourt with the Cheshire archers, however this seems more likely to have been the Cheshire, rather than the Derbyshire branch of the family.
This all points to a pattern of the brothers serving together, as William, now with Richard serve together in Calais in 1383, with the captain John Devereaux.  We know this as the captain of Calais, John Devereux confirmed that they had been there under his command from 1 Jan to 2 March 1383 [TNA KB 27/490, m. 102].
We can therefore see from this survey of military experiences, that Ralph Stathum and his sons were active militarily, both before, immediately preceding the revolt, and continuing afterwards.  As our research continues it will be possible to see whether this pattern of soldier-rebels is repeated elsewhere in 1381.
Map Showing the Location of Morley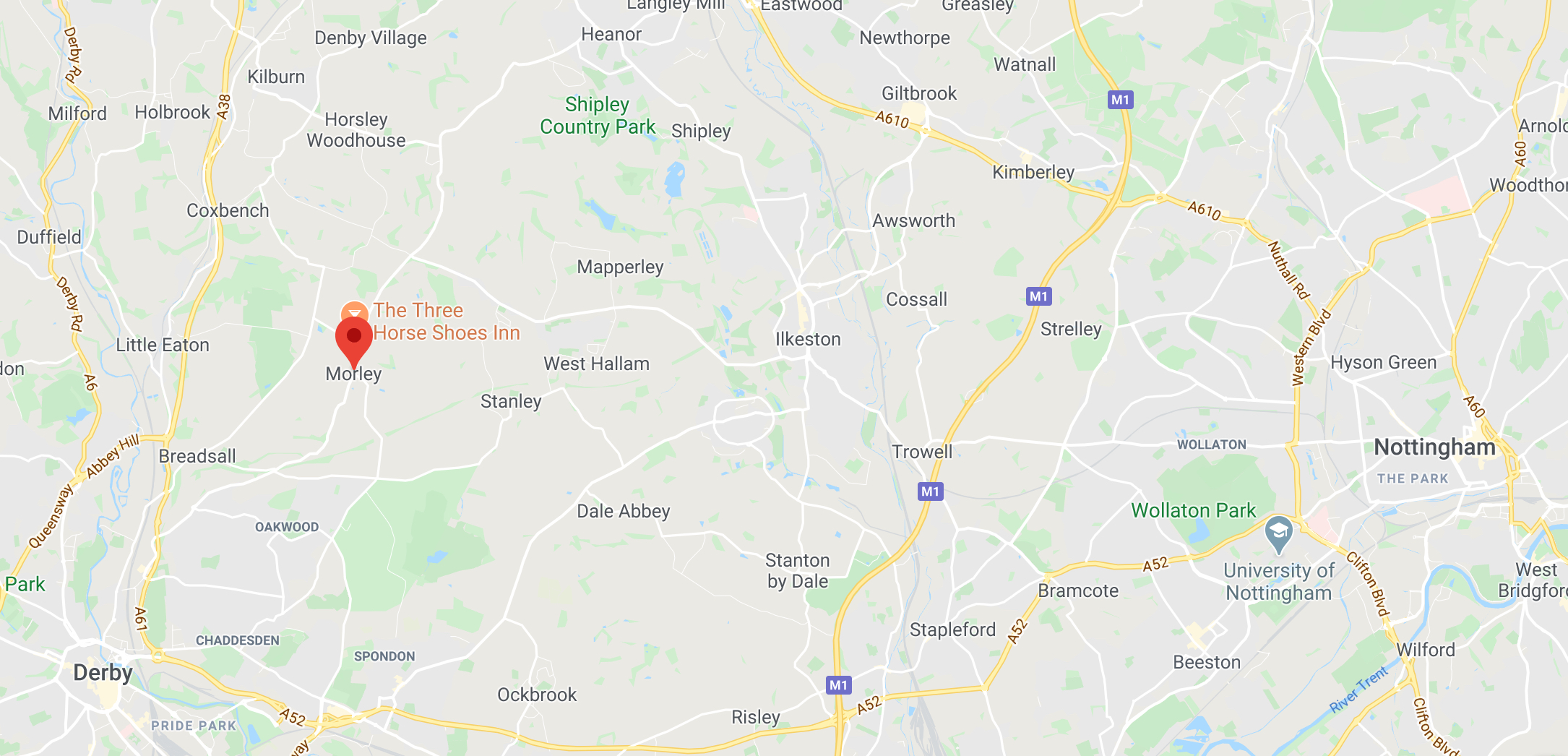 Further Reading:

A.R. Bell, A. Curry, A. King, D. Simpkin, The Soldier in Later Medieval England (2013)
D. Crook, 'Derbyshire and the English Rising of 1381', Historical Research 60 (1987): 9-23.
M. Jurkowski, ''For whom the bell tolls': The Building of Morley Church Tower', in P.A. Brand and S. Cunningham ed., Foundations of Medieval Scholarship: Records Edited in Honour of David Crook (2008), pp. 173-82.
'Houses of Austin canons: The priory of Breadsall', in A History of the County of Derby, Volume 2, ed. William Page (London, 1907), pp. 54-56.
S.P.H. Statham, The Descent of the Family of Statham (1925)
Archival References to Goditha's legal actions: KB 27/487, m.11; 488, m. 17d; 489, mm. 11, 39; 491, m. 14; 492, m. 14; 493, m. 17; JUST 1/1488, mm. 33d. 64; Derbyshire Feet of Fines, 1323-1546. ed. H. J. H. Garratt. introduction by C. Rawcliffe (Derbyshire Record Soc., xi, 1985) no. 925; JUST 1/1488, m. 71; CP 40/495, mm. 334-334d; Derbyshire Feet of Fines, 1323-1546, no. 963; CP 40/596, 147; British Library, Additional Charter 3242.