Project website shares stories of People of 1381
Posted 2019-12-06 11:43:30 by Admin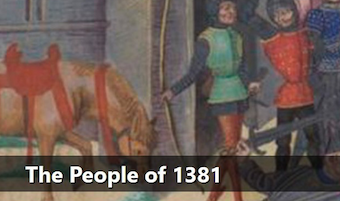 Henley Business School Press Release, 29 November 2019
An eye-witness is one of the first individuals whose story is shared on a website launched to host The People of 1381 research project on the Peasants' Revolt – one of the largest popular uprisings in medieval Europe.
Margery Tawney became caught up in the chaotic events of the uprising after heading to the Tower of London with her eldest son in a bid to see the King and raise a grievance over unpaid debt.
Her story is one of many it is hoped will be uncovered as part of the research, which is led by Professor Adrian Bell from Henley Business School and has received almost £1 million in funding. Central to the project is the creation of a database to provide the first overview of events, places and people involved.
The role of women in the rebellion has little been investigated previously. While Margery was not a rebel herself, her actions offer a new interpretation of the events at the Tower on June 14 – the height of the revolt. Her story can be found here.
A second case study, of John Peper of Linton, shows what could be possible as a result of the project, as well as identifying potential hurdles the team could encounter along the way.
Peper was a member of a group of Cambridgeshire rebels, destroying homes and attacking those they regarded as traitors. But the name 'John Peper' also appears among the men-at-arms who took part in an expedition to France in 1380-1. The research team considers here whether the two men are in fact the same person.
One of the aims of the project is to use a 'big data' overview of muster rolls and other records, as well as the Medieval Soldier Database, to trace the lives of the individuals like Peper who were involved in the uprising.
Big data techniques will be facilitated by a team at the University of Southampton, who along with academics from the University of Oxford and the University of Glasgow are co-investigators for the project.
As well as the profiles and database, the website will also contain a useful overview of the revolt and a diary of events which are planned to support and complement the research.
The three-year project was given funding by the Arts and Humanities Research Council.
Visit The People of 1381 website to find out more.